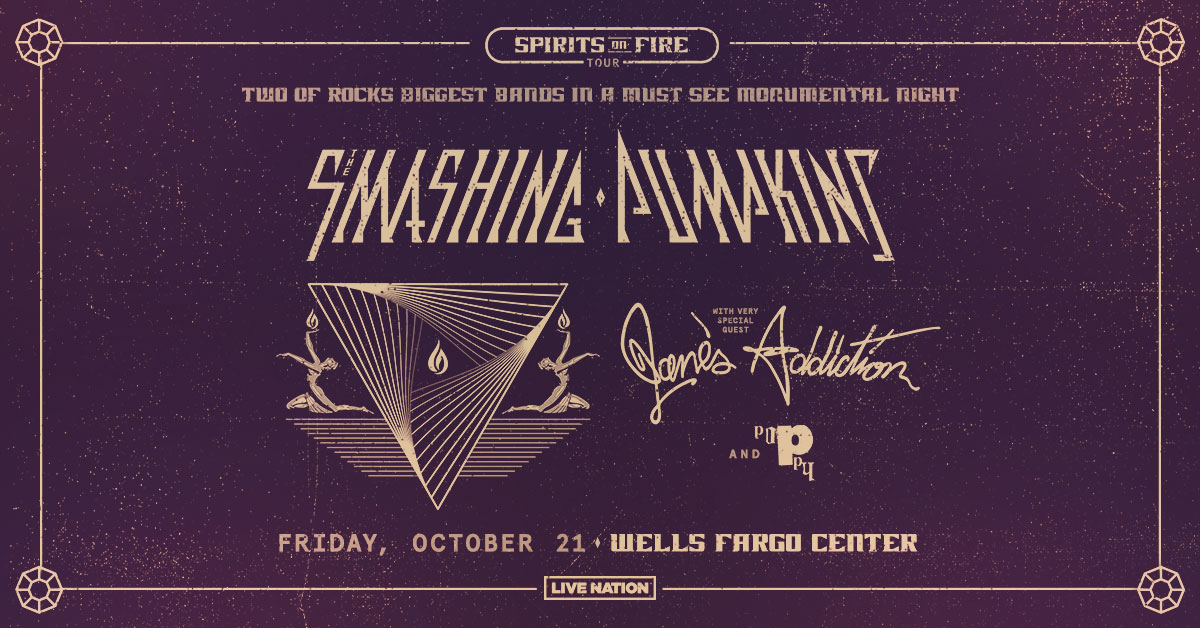 Smashing Pumpkins with Jane's Addiction and Poppy are coming to Wells Fargo Center on 10/21! 
Listen to JoJo and Scotty weekday mornings or enter below for your chance to win!
The Smashing Pumpkins are an American alternative rock band from Chicago. Formed in 1988 by frontman Billy Corgan, D'arcy Wretzky, James Iha, and Jimmy Chamberlin, the band has undergone many line-up changes. The current lineup features Corgan, Chamberlin, Iha and guitarist Jeff Schroeder. They have a diverse, densely layered, and guitar-heavy sound, containing elements of gothic rock, heavy metal, dream pop, psychedelic rock, progressive rock, shoegazing, and, in later recordings, electronica. The Smashing Pumpkins broke into the musical mainstream with their second album, 1993's Siamese Dream. The group built its audience with extensive touring and their 1995 follow-up, the double album Mellon Collie and the Infinite Sadness, debuted at number one on the Billboard 200 album chart. With 30 million albums sold worldwide, the Smashing Pumpkins were one of the most commercially successful and critically acclaimed bands of the 1990s. In 2006, Corgan and Chamberlin reconvened to record a new Smashing Pumpkins album, Zeitgeist. Corgan began a new recording series with a rotating lineup of musicians entitled Teargarden by Kaleidyscope, which encompassed the release of stand-alone singles, compilation EP releases, and two full albums that also fell under the project's scope—Oceania in 2012 and Monuments to an Elegy in 2014. The reunited lineup released the album Shiny and Oh So Bright, Vol. 1 / LP: No Past. No Future. No Sun. in November 2018 and Cyr in November 2020.
Tickets on sale at ticketmaster.com!