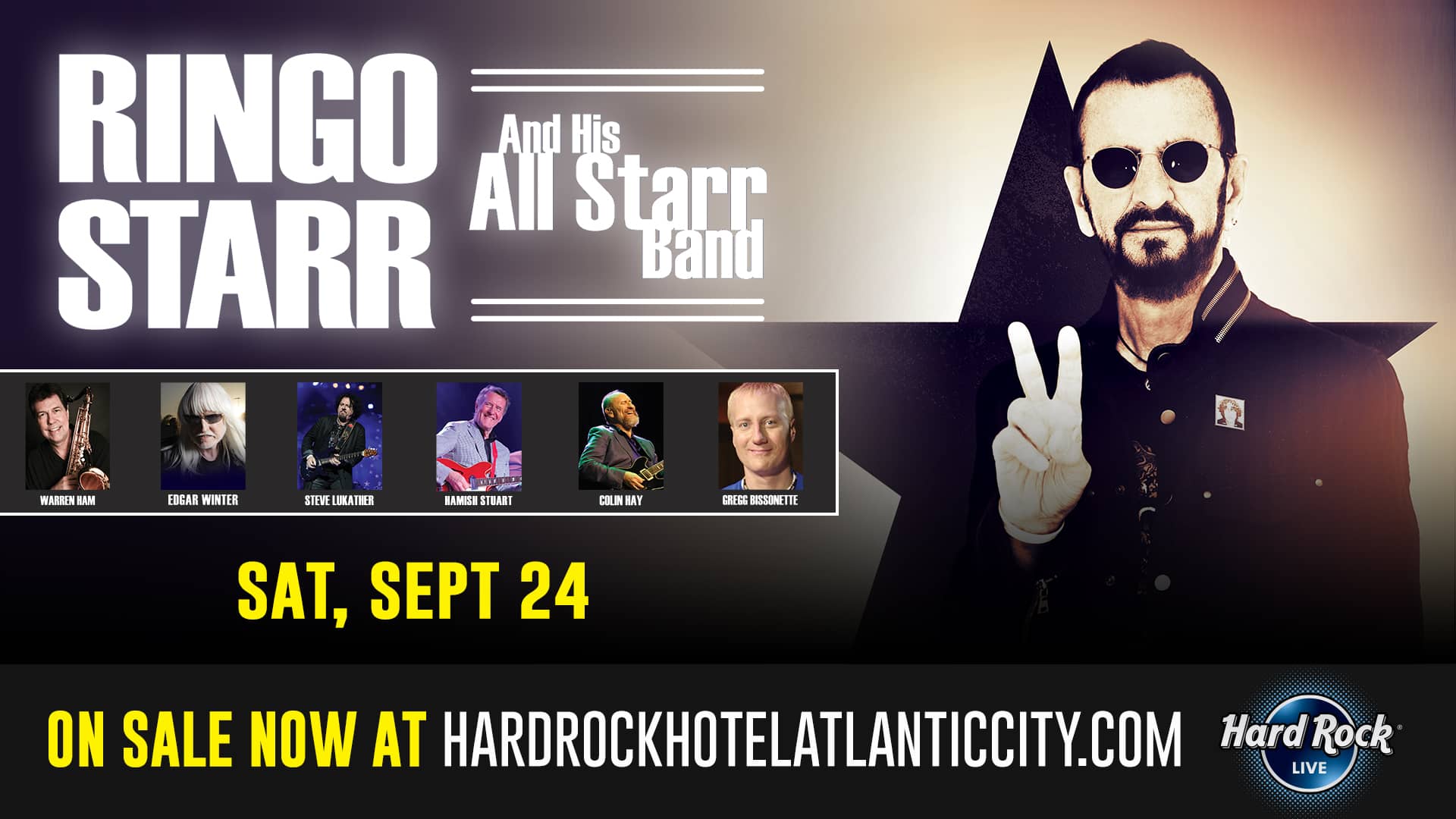 Ringo Starr and his All Starr Band is coming to Hard Rock on 9/24!
Listen to JoJo and Scotty weekday mornings or enter below for your chance to win a free pair of tickets!
Ringo Starr is an English musician, singer, songwriter and actor who achieved international fame as the drummer for the Beatles. He occasionally sang lead vocals with the group, usually for one song on each album, including "Yellow Submarine" and "With a Little Help from My Friends". He also wrote and sang the Beatles songs "Don't Pass Me By" and "Octopus's Garden", and is credited as a co-writer of others. In 1957, he co-founded his first band, the Eddie Clayton Skiffle Group. When the Beatles formed in 1960, Starr was a member of another Liverpool group, Rory Storm and the Hurricanes. After achieving moderate success in the UK and Hamburg, he quit the Hurricanes when he was asked to join the Beatles in August 1962, replacing Pete Best. In addition to the Beatles' films, Starr has acted in numerous others. After the band's break-up in 1970, he released several successful singles including the US top-ten hit "It Don't Come Easy", and number ones "Photograph" and "You're Sixteen". His most successful UK single was "Back Off Boogaloo", which peaked at number two. He achieved commercial and critical success with his 1973 album Ringo, which was a top-ten release in both the UK and the US. He has featured in numerous documentaries, hosted television shows, narrated the first two series of the children's television programme Thomas & Friends and portrayed "Mr. Conductor" during the first season of the PBS children's television series Shining Time Station. Since 1989, he has toured with thirteen variations of Ringo Starr & His All-Starr Band. Starr's playing style, which emphasized feel over technical virtuosity, influenced many drummers to reconsider their playing from a compositional perspective. He also influenced various modern drumming techniques, such as the matched grip, tuning the drums lower, and using muffling devices on tonal rings. In 1999, he was inducted into the Modern Drummer Hall of Fame. In 2011, Rolling Stone readers named him the fifth-greatest drummer of all time. He was inducted twice into the Rock and Roll Hall of Fame, as a Beatle in 1988 and as a solo artist in 2015, and appointed a Knight Bachelor in the 2018 New Year Honours for services to music. In 2020, he was cited as the wealthiest drummer in the world, with a net worth of $350 million.
Tickets on sale now at hardrockhotelatlanticcity.com.