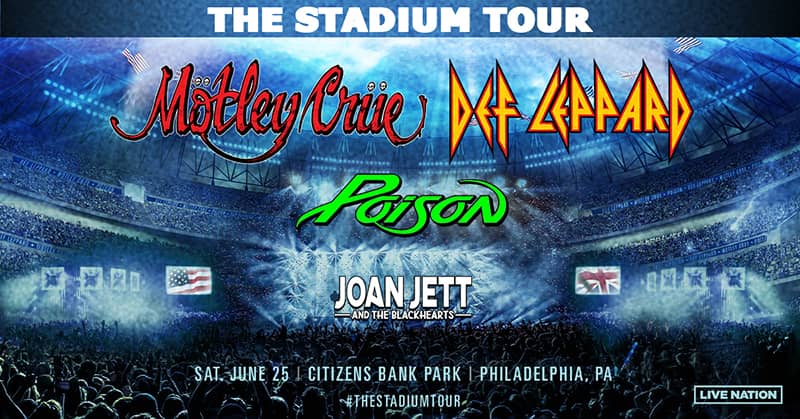 "The Stadium Tour" with Motley Crue, Def Leppard, Poison, Joan Jett, and more is coming to Citizen Bank Park on 6/25.
Motley Crue is an iconic rock band from Los Angeles, CA, the quartet—Vince Neil (vocals), Mick Mars (guitars), Nikki Sixx (bass), and Tommy Lee (drums)— has commandeered the rock pantheon for 38 years. They have also achieved seven platinum or multi-platinum certifications, nine Top 10 albums on the Billboard 200 chart (including 1989's Dr. Feelgood, which is Mötley Crüe's only album to reach number one), twenty-two Top 40 mainstream rock hits, and six Top 20 pop singles. The band experienced several short-term lineup changes in the 1990s and 2000s; these included the introduction of vocalist John Corabi (who was Neil's replacement from 1992 to 1996) and drummers Randy Castillo and Samantha Maloney, both of whom filled in for Lee following his departure from Mötley Crüe in 1999; he returned to the band in 2004, and their current lineup has been the same as the original since then. The band has also been known for their elaborate live performances, which feature flame thrower guitars, roller coaster drum kits, and heavy use of pyrotechnics. Mötley Crüe's most recent studio album, Saints of Los Angeles, was released on June 24, 2008. On March 22, 2019, the band released four new songs on the soundtrack for its Netflix biopic The Dirt. They've accumulated worldwide album sales exceeding 100m, 7 platinum and multi-platinum albums, 22 Top 40 mainstream rock hits, 6 Top 20 pop singles, 3 GRAMMY nominations, 4 New York Times best-sellers and even landed a star on the Hollywood Walk of Fame.
Deff Leppard has been a well known band since 1992, the band has consisted of Joe Elliott (lead vocals), Rick Savage (bass, backing vocals), Rick Allen (drums, backing vocals), Phil Collen (guitars, backing vocals), and Vivian Campbell (guitars, backing vocals). 
Their first album, 1980's On Through the Night, reached the Top 15 in the UK. Their second album, 1981's High 'n' Dry, featured the album's most popular track "Bringin' On the Heartbreak" which became one of the first rock videos played on MTV. Def Leppard's next studio album, Pyromania, was released in January 1983, with "Photograph" and "Rock of Ages" both topping the US Rock Tracks chart and reaching the Top 20 of the Hot 100. Def Leppard's fourth album, the more pop-oriented Hysteria (1987), topped the UK, US, New Zealand, Canadian, Australian Sweden, Germany, and Norway charts. It has been certified 12× platinum for sales in the US, selling over 25 million copies worldwide, making it one of the best-selling albums of all time. The album spawned six Top 20 US singles, including the US Billboard Hot 100 No. 1 "Love Bites", alongside No. 2 charted "Pour Some Sugar on Me", and more hits. Their next studio album, Adrenalize (their first following the death of guitarist Steve Clark), reached No. 1 on the US charts in 1992. It contained several hits, including the US Rock Tracks chart-topper, "Let's Get Rocked", which became their biggest hit in several countries. Their 1993 album, Retro Active, contained hit "Two Steps Behind". Their greatest hits album Vault, released in 1995, reached the Top 10 in several countries, going 5x platinum in the US. Beginning with Slang, Def Leppard released five albums between 1996 and 2008, with most usually reaching the Top 15 in several countries. Their most recent album, self-titled, was released in 2015 and once again reached the Top 15 in several countries. As one of the world's best-selling music artists, Def Leppard have sold more than 100 million records worldwide, and have two albums with RIAA diamond certification: Pyromania and Hysteria, making them one of only five rock bands with two original studio albums selling more than 10 million copies in the US. The band was ranked  No. 70 in "100 Greatest Artists of All Time". Def Leppard were inducted into the Rock and Roll Hall of Fame in 2019.
Listen to JoJo and Scotty weekday mornings for your chance to win free tickets or enter below!
Tickets on sale now at ticketmaster.com.