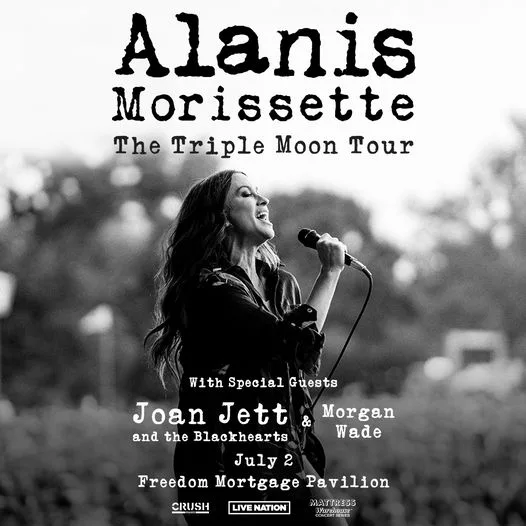 Listen to Jojo and Scotty in the mornings for a chance to win FREE tickets!
Alanis Nadine Morissette (/əˈlɑːnɪs ˌmɒrɪˈsɛt/ ə-LAH-niss MORR-iss-ET; born June 1, 1974) is a Canadian and American singer and songwriter. She is known for her emotive mezzo-soprano voice and confessional songwriting. Morissette began her career in Canada in the early 1990s with two dance-pop albums. In 1995, she released Jagged Little Pill, an alternative rock-oriented album with elements of post-grunge. This album sold more than 33 million copies globally, propelling her to become a cultural phenomenon. It earned her the Grammy Award for Album of the Year in 1996 and was adapted into a rock musical of the same name in 2017. The musical earned fifteen Tony Award nominations, including Best Musical. Additionally, the album was listed in Rolling Stone's 2003 and 2020 editions of the "500 Greatest Albums of All Time" guide. The lead single, "You Oughta Know", was also included at #103 in their "500 Greatest Songs of All Time".
Morissette followed up with a highly anticipated, more experimental, electronic-infused album titled Supposed Former Infatuation Junkie, which was released in 1998. Taking creative control and production duties, Morissette continued her career with subsequent studio albums, including Under Rug Swept (2002), So-Called Chaos (2004), Flavors of Entanglement (2008), Havoc and Bright Lights (2012), and Such Pretty Forks in the Road (2020). Her latest album, The Storm Before the Calm, featuring ambient music, was released in 2022.
Morissette's singles, including "You Oughta Know", "Hand in My Pocket", "Ironic", "You Learn", "Head Over Feet", "Uninvited", "Thank U", and "Hands Clean", reached top 40 in the major charts around the world. She boasts ten top-40 songs in the UK, three top-10 hits in the US and Australia, and twelve top-10 tracks in her native Canada. Morissette also holds the record for the most No. 1s on the weekly Billboard Alternative Songs chart among female soloists, group leaders, or duo members. She is ranked number 53 on VH1's 1999 "100 Greatest Women of Rock and Roll".
With seven Grammy Awards, fourteen Juno Awards, one Brit Award, two Golden Globe nominations, and more than 75 million records sold worldwide, Morissette is often referred to as the "Queen of Alt-Rock Angst" by Rolling Stone.
Enter below for a chance to win free tickets