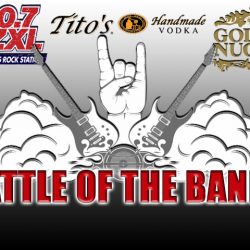 It's your turn to be discovered~Register your band for the 100.7 WZXL's Jams for Jude: Battle of the Bands during the Total Tito's Takeover coming to Golden Nugget Atlantic City this 4th of July.
What do you win: One Grand Prize band will walk away with $2,500 in cash (courtesy of Tito's Handmade Vodka), $150 Gift Card from Guitar Center Mays Landing AND a gig at the Deck at Golden Nugget on 8/31 (plus rooms for the band that night!) One runner up band will receive various prizes provided by 100.7 WZXL. Plus, we'll play a snippet of your songs on air and announce your name as the winning band on 100.7 WZXL.
What we are looking for: Various bands that MUST perform at least a 20 minute set with 50% cover songs and 50% originals from 12n-5pm on Wednesday, July 4th, 2018.
When: If chosen for the competition, you'd be performing on the Deck at Golden Nugget on July 4th from 12-5pm.
Where: The Deck at Golden Nugget Atlantic City 600 Huron Ave, Atlantic City, NJ 08401. If you aren't familiar with the Deck, click here for more details.  According to AC Weekly "The bands are stellar. Each summer The Deck manages to be one of the best spots to see live music in Atlantic City. With a mix of the area's top cover bands playing everything from oldies to modern rock, you can be sure the party will stay energized. And unlike some bars that cram the band in a back corner of the floor, The Deck features a large stage and top- notch sound system, giving the performers plenty of space to put on a real show."
How is the winner decided upon? 100.7 WZXL's morning show host, Scotty Reilly and Program Director, Steve Raymond will host the Battle of the Bands on 7/4/18, featuring bands that have REGISTERED HERE BY THE DEADLINE OF 6/25.  We'll have a combination of audience participation, onsite judging and voting by social media to decipher what band will be given the title, the grand prize  $2,500 and booking at The Deck at Golden Nugget
About The Total Tito's Take Over: The 100-percent American-made vodka will be offered all

week as the casino offers boozy specials and interactive games. Plus proceeds from this event and others throughout the takeover will benefit St. Jude's Children's Research Hospital

What is provided for your performance:
Full PA System
Yamaha recording series drum kit with 10″,12″, and 16″ toms ( full specs are below )  Vox AC 30 with "blue bulldogs", Marshall JCM 900 with 4 X 12 cabinet,  GK/Hartke bass rig. We also have several keyboard stands ( 3 single X-stands and 2 Ultimate Support ) . Bands are encouraged to use the Yamaha kit to facilitate a quick sound check since time is limited.

Drum inventory:
Yamaha Recording Custom  10″ tom, 12″ tom, 16″ floor tom, 22″ kick, 14″x5″ snare
new DW5000 single kick pedal
old yamaha, pearl, and tama chain drive kick pedals

yamaha double braced three leg hi-hat stand
4 yamaha double braced cymbal stands
Cymbals:
2  sets 14″ new beats
2  16″ medium crash
1  18″ medium crash
1  Paragon 19″ china
1  20″ medium ride
1   20″ medium crash

All other backline needed for the engagement must be provided by the band.


Tags: