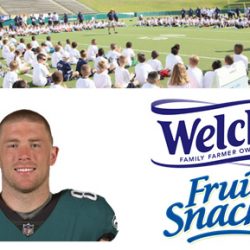 Wanna send your child to train with Eagles tight end and Superbowl champ ZACH ERTZ?
Welch's® Fruit Snacks is partnering with ProCamps Worldwide to give away 2 tickets to the Zach Ertz ProCamp on June 2nd – June 3rd.  During the ProCamp, campers will have the opportunity to experience fun and educational activities on the field with Philadelphia Eagles star tight end and Super Bowl champion, Zach Ertz. 
That's right, your child will experience ProCamp, June 2nd – 3rd in Folsom, PA which will give kids in grades 1st through 8th a chance to interact with Philadelphia Eagles star tight end, Zach Ertz, as he offers them his best football tips and instruction!
Campers will receive:
a souvenir autograph from Zach Ertz (item provided – outside items not permitted)
a camp team photo with Zach Ertz
a limited-edition Zach Ertz Football ProCamp Nike t-shirt

For more info go to
https://www.procamps.com/ZachErtz
Register your child below!