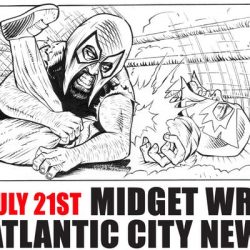 Midgets can rumble and the little people from the Micro Wrestling Federation will be back in Atlantic City on Saturday, July 21st for your own eyes to see. Knee High Knuckle Buster Championship Midget Wrestling, hosted by Jojo & Scotty from 100.7 WZXL will once again be slamming down in Atlantic City for its 3rd consecutive year. Ducktown Tavern's outdoor "Back Duck"transforms into a high-energy arena for a spectacle of unique entertainment that's worth a hop on the bandwagon.
In 2016, Good Time Tricycle Productions brought local entertainment to a whole new level, by introducing a full-scale, WWE type event, with one big twist: a cast of very little humans. A sea of people came to curb their curiosity for their debut, and after having so much fun,each must have brought a friend for round 2 in 2017.This year, GTT is preparing for numbers to double once again, with even more mini mayhem.
These nationally renowned touring wrestlers are masters of their craft. While they might be under five foot, their bouts are not short on entertainment! Returning as our referee, in attempt to control this band of misfits, is former WWE Wrestler and larger-than-life human being, Gene Snitsky (AKA Snitsky). In addition to the multiple action-packed matches, there will be food, booze, and a hot dog eating contest. Some new additions to this year's line-up are very special horse-racing and hatchet throwing,all taking place under the Atlantic City summer sky. Knee High Knuckle Buster will also feature DJ Dave Mass spinning tunes until the official KHKB after party moves into the Ducktown for more fun!
Gates open at 6pm on Saturday, July 21st. Attendees are encouraged to get there early and check out all of the participating vendors and activities. The weigh-in will start at 6:30pm and the main event will take place from 8:00pm-10:00pm!
Tickets for this event can be purchased HERE are as follows:
VIP tickets ($40-$55) include ring-side seating in the first 4 rows, an official event t-shirt and photo ops with wrestlers and Snitsky.
General Admission ($20) will be available on a first-come, first-serve basis .
Tickets purchased at the door will be $25 for General Admission.
Register below to win FREE TICKETS or call JoJo & Scotty to request them for yourself at 609-370-1007
Parental discretion advised.