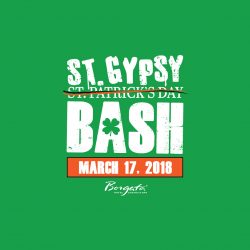 Since the Atlantic City St. Patrick's Day Parade is on Sat 3/10 this year, you have the entire next weekend open to party at Borgata……..
When: Saturday, March 17
Where: Borgata Event Center
Celebrate Saint Patrick's Day …. with a twist… and a lime wedge.  Gypsy Bar is taking over Borgata's Event Center for the first ever St. Gypsy Bash. Celebrate St. Patrick's Day with some of our favorite Gypsy Bar bands including My Hero Zero, Kristen & the Noise, Flip Like Wilson, Burnt Sienna and Red Hot Chilli Pipers to close out the night. JoJo & Scotty are your hosts for lawn games like corn hole and exclusive specials, we're keeping the party going from 4PM – 10PM. Plus, order up 100.7 WZXL's Listener Lager on site from Alphabet City Brewing Co. Come celebrate the holiday the Gypsy way with photo booths, leprechauns and more.  Why should Saint Patrick have all the fun?
Tickets: $20 Includes:
Souvenir T-Shirt (while supplies last)
Glow Bracelet (while supplies last)
GET TICKETS HERE!  OR WIN THEM FOR FREE WEEKDAY MORNINGS WITH JOJO AND SCOTTY 6A-9A.

Tags: