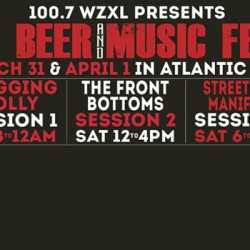 Call it Celebration of the Suds….Call it your annual "get together with the crew". Just whatever you do, buy tickets sooner rather than later because 100.7 ZXL presents Atlantic City Beer & Music Festival WILL SELL OUT! This year, the dates are March 31st and April 1st as always at the AC Convention Center….. Sessions include: Fri 8p-12am, Sat 12n-4pm and Sat 6p-10pm.
Bands include Flogging Molly – Session One, Front Bottoms – Session Two and Streetlight Manifesto – Session Three! Tickets are on sale NOW!
You want more info? check out below.
One of the country's largest celebrations of beer, beer accessories and of course, music! Past headliners include: Reverend Horton Heat, Marky Ramone, Saves the Day, Everclear, Taking Back Sunday and Dashboard Confessionals
Over 150 different breweries from around the corner and across the country showcase libations and more than 28,000 people attend!
The perfect opportunity for beer aficionados and the casual beer drinker to speak to brewers responsible for some of their favorite brews, discover and taste new brews plus special "limited release" beers and ales.
Already one of Atlantic City's most anticipated events of the year, the 2017 festival will have the perfect soundtrack to enjoy great brews, great tunes and thousands of great people! PLUS: The HOPS TROT 5k on 4/1
In it's 12th year, the 100.7 ZXL presents Atlantic City Beer and Music Festival features culinary demonstrations from area chefs, beer seminars hosted by beer personalities and brewers – and some "off the wall" activities. Additional festival vendors will offer great food and some unique beer-related apparel and goods. This year's festival will appeal to absolutely everyone. Including those designated drivers. A special ticket will get them in the gate and unlimited soft drinks.
and don't forget the 2nd Annual Hops Trot 5k Saturday, April 1st. The 5k with flavor!
Enter Here To Win Free Tickets

Tags: